Why 2019 Honda Insight is the Perfect Vehicle for the People of Huntington, NY?
The Honda Insight first came about in 1999 when it was the first American gas-electric hybrid car which had an average of 70 miles to the gallon for its highway rating which led the Honda Insight to retain the title of the nation's mileage champ for seven years in a row. Now the 2019 Honda Insight is going to revolutionize the American market once again. It boasts 52 miles per gallon if you choose the EX or LX trim levels.
Honda has not just focused on the efficiency of the car with the 2019 Insight they've also focused on making it eye catching. Inside the 2019 Honda Insight looks crisp, clean and modern with no clutter. The people of Huntington, NY will also be driving safely in theire 2019 Honda Insight due to the vast array of safety features that come included standard with the 2019 Honda Insight such as the Honda sensing system which keeps you safe whilst on the highway.
Performance of the 2019 Honda Insight
The 2019 Honda Insight has an in-line 4-cyclinder hybrid engine under the hood which produces an impressive yet modest 107 horsepower. The valve train that accompanies this motor is a double overhead cam which gives a less restricted airflow between both the intake and exhaust valves which increases the efficiency for the 2019 Honda Insight even more. Typically you'll get around 45-49 miles to the gallon (between both highway and city). It comes with a three mode driving system including a comfort mode meaning you can relax, take it easy and enjoy driving through Huntington, NY, in your brand new 2019 Honda Insight.
In-Line 4-Cyclinder Engine
107 horsepower
16-Valve DOHC i-VTEC
3-Mode Drive System
45 to 49 miles to the gallon depending upon trim *
*MPG based on 2019 EPA mileage estimates. Used for comparison purposes only. Actual mileage will vary depending on driving conditions, how you drive & maintain your vehicle, battery pack, age/condition & other factors.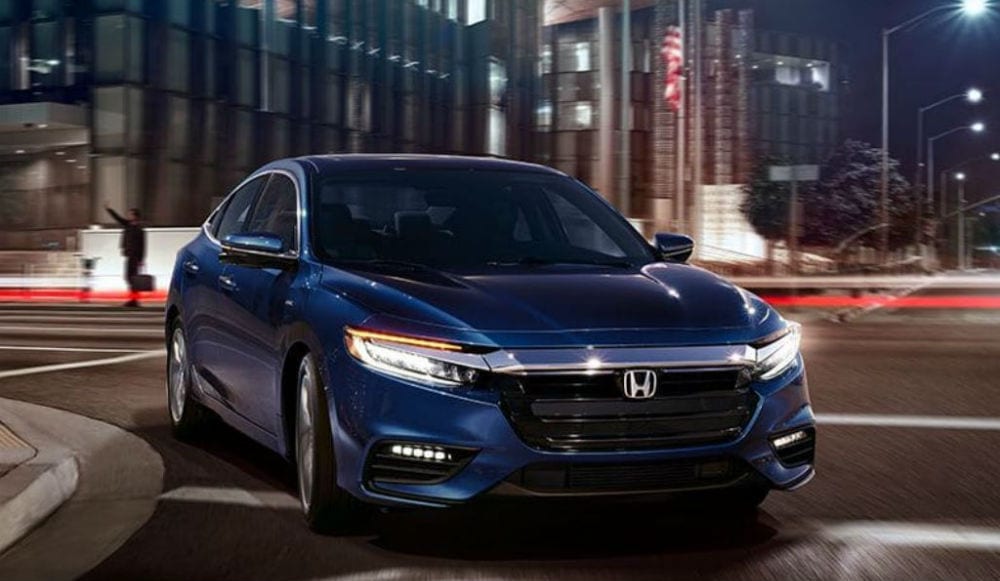 Technology of the 2019 Honda Insight
Most of the technology innovation lies with the eco-efficiency of the 2019 Honda Insight, but they have also ensured that there is a decent infotainment setup inside. You'll find a 5 inch color LCD screen in the center of the instrument panel in the front of the car. This can link up to Hondalink if you have chosen the EX or Touring trims which allows you to also install the app on your phone and monitor both charging levels and what you're averaging in terms of MPG. If you choose either of these trims you will also have access to the Android Auto and Apple Car Play systems that allow you to connect your smartphone to the car.
Eco Assist System
5 inch color LCD screen
Bluetooth connectivity
Hondalink (EX and Touring only)
180 watt audio system with 8 speakers (EX only)
Android Auto and Apple Car Play (EX and Touring only)
Safety of the 2019 Honda Insight
As always Honda has made safety their top priority during the design of the 2019 Honda Insight. This includes the Honda sensing pack that comes as standard includes the collision mitigation braking system and a lane keeping assists system keeping you and your family safe whilst on the highways of Huntington, NY. It also comes with anti-lock brakes as standard which includes an electronic brake distribution system set up to the rear with brake assist.
Hill Start Assist
Vehicle Stability Assist with Traction Control
Anti-Lock Brakes
Brake Assist
Multi-Angle Rearview Camera
Electronic Brake Distribution
Honda Sensing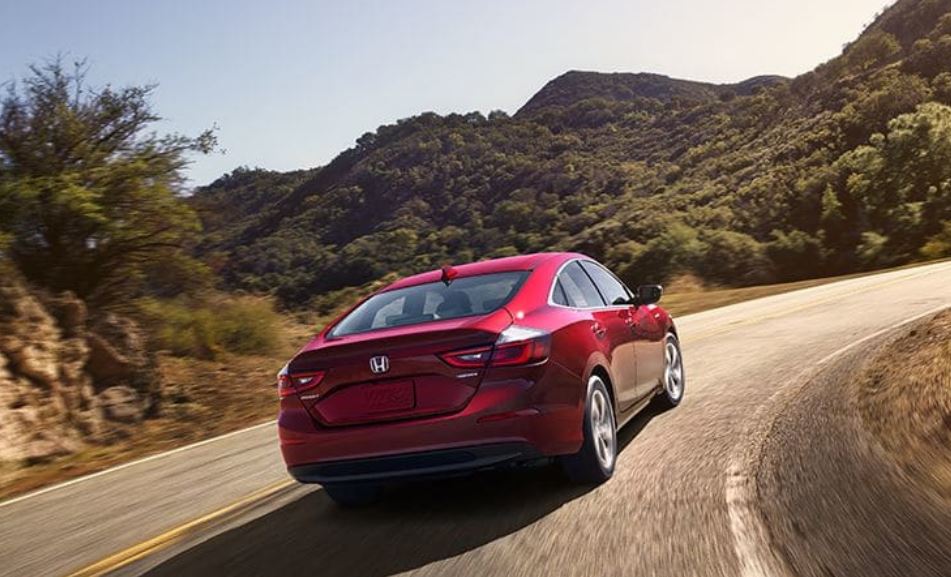 2019 Honda Insight Interior & Exterior
One of the most impressive and attractive factors of the 2019 Honda Insight that you can't notice from the outside is the space it offers both in terms of passenger space and cargo volume, for a sedan it is incredibly spacious. If you choose the top level touring trim you'll find that the driver and front passenger both have heated seats that are perfect for keeping you warm during winder. There are also automatic LED lights for both the headlights and taillights as well as heated side mirrors meaning you won't be scraping them during the winter.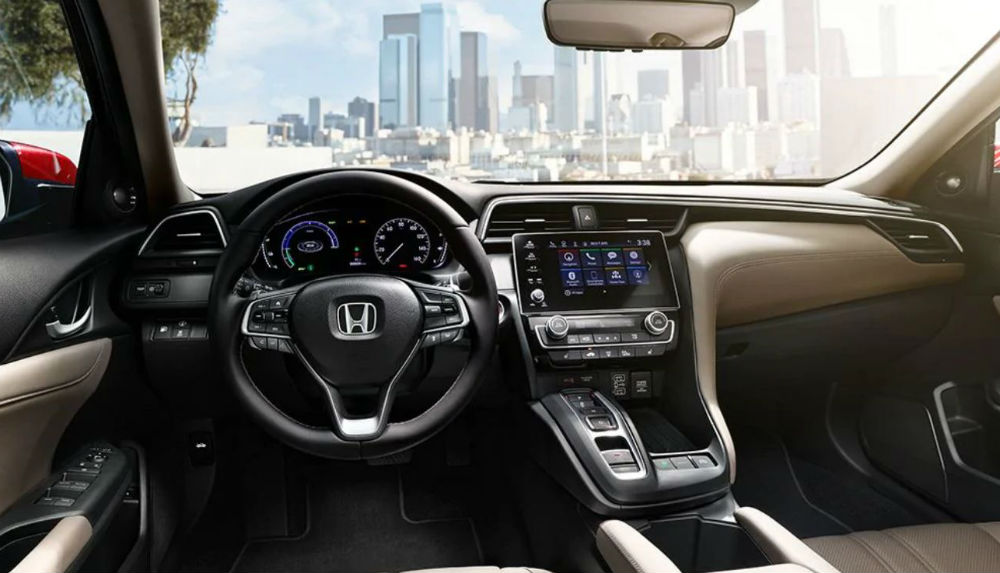 15.1 cubic foot of cargo volume
97.6 cubic foot of passenger volume
5 seats
Heated front seats (Touring only)
LED headlights
LED taillights
2019 Honda Insight Trims
There are three trims in total for the 2019 Honda Insight with these being the LX, EX and Touring. A lot of standard features are shared amongst the three trims however the EX and Touring tend to have more convenient features such as Hondalink, upgraded audio systems, and Android Auto and Apple Car Play to connect your smartphone. If you choose the touring trim you'll also be treated to heated seats for the driver and front passenger.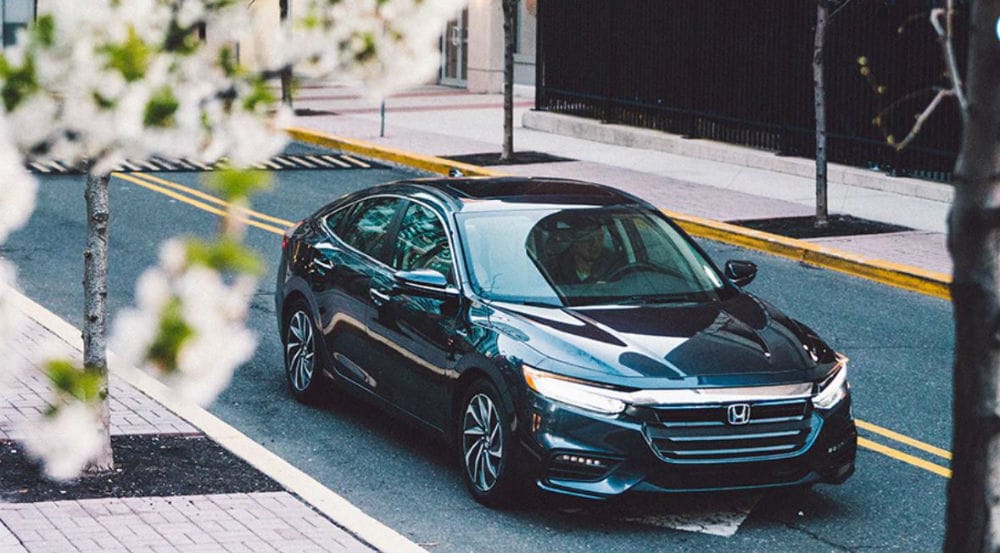 Why Buy From Baron Honda near Huntington, NY ?
We are the one stop shop for the residents of Huntington, NY and we do everything possible to meet the needs of our customers. Whether you wish to buy new 2019 Insight or you simply wish to get your existing vehicle serviced, we look forward to seeing you ar anytime. We'll not only offer the best possible prices for the new and pre-owned vehicles but we'll also offer you lots of incentives for using our services.
Visit us today and experience our flawless services!